Airtel ATN will be exhibiting at the World ATM Congress in Madrid from 7th- 9th March 2017.
Visit us at Booth 111 where we will be providing an introduction to our Air/Ground Data Communication Solutions including:
CPDLC/ADS-C Data Link Servers (ATN, FANS)
Network Infrastructure & Routers (VDL, SATCOM, POA)
CPDLC/ADS-C Ground Test Systems
CPDLC/ADS-C Aircraft Test Systems
Portable Test Systems (VDL, SATCOM, CPDLC, ADS-C)
Airtel ATN's Research and Development Director, Santi Ibarz, will be giving a talk on "Navigating CPDLC Mandate for ANSPs: Status and the road to completion" at the Spotlight Stage, Wednesday 8th March at 10:15am.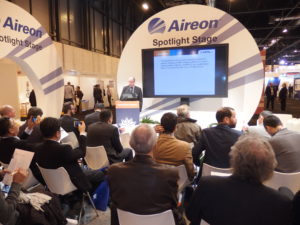 This presentation provides an essential roadmap for ANSPs to meet the CPDLC Mandate by February 2018. This presentation will summarise the current status of the European CPDLC Mandate, outline the different systems required to meet the Mandate and highlight future technology considerations.
As the European CPDLC Mandate deadline approaches, and Data Link in Europe becomes an operational reality, there has been a significant increase in requests for both Airtel ATN's operational Data Link systems and test tools. Currently over 6 ANSPs in Europe are Data Link enabled with Airtel ATN software including NavPortugal, Irish Aviation Authority and HungaroControl.
For more details on the World ATM Congress and Airtel ATN visit: www.worldatmcongress.org