Airtel's Data Link solutions lead the way to transform future communications between aircraft and air traffic control.
WHY ANSPS CHOOSE AIRTEL
Airtel is active in more than 35 countries providing operational and test Data Link solutions to Air Navigation Service Providers (ANSPs) in America, Asia and Europe.
Many European ANSPs selected Airtel to support them in meeting the European Data Link Mandate (Commission Regulation, EC No29/2009, as amended by Regulation (EU) 2015/310 and regulation (EU) 2019/1170.
Airtel is an experienced partner of System Integrators seamlessly merging our products as part of a wider ATM solution.
ANSP customers include: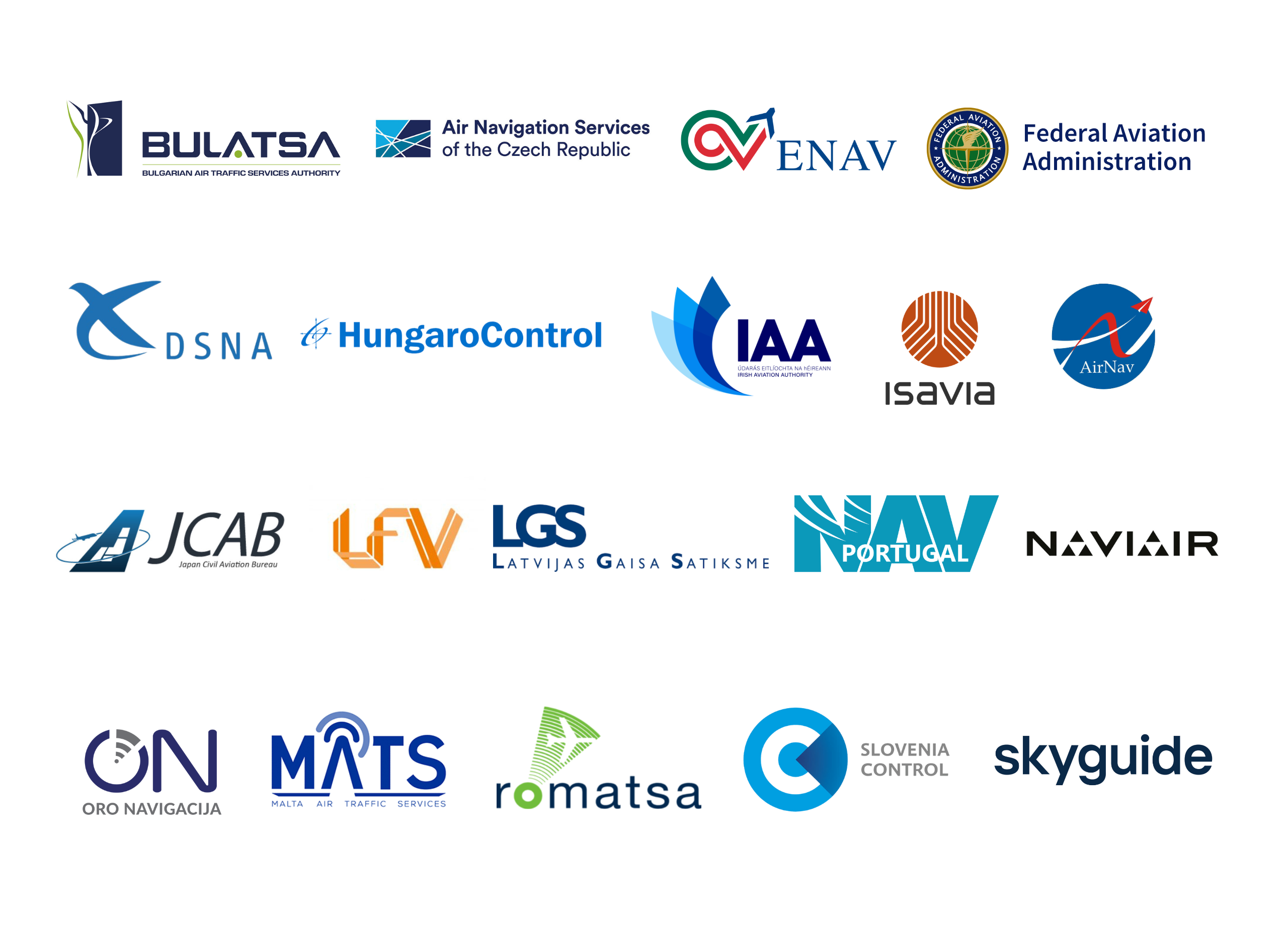 AIR GROUND DATA LINK SERVER (AGDLS)
Data Link networks are becoming an increasingly important communication method between ground control and aircraft. This Data Link network requires high-reliability and availability. These networks have evolved as the Aeronautical Telecommunication Network (ATN) and the Future Air Navigation System (FANS). Air Navigation Service Providers and users depend on a robust, scalable messaging service that can support both platforms.
The Airtel ATN Air/Ground Data Link Server (AGDLS) provides ATC communications for air traffic control centres with a Data Link communications backbone. The AGDLS supports the Context Management (CM) and Controller Pilot Data Link Communications (CPDLC) protocols and interfaces with both ATN and FANS networks. AGDLS provides, abstracting their underlying detail and enabling network operators to concentrate on the application services they deliver.
The AGDLS product provides well-defined interfaces to ensure easy integration with different ATM systems. The Air Ground Data Link Server interfaces with ATN and FANS CSP networks to support ATN and FANS 1/A+ aircraft.
The Data Link service functions supported by AGDLS are:

Data Link Initiation Capability (DLIC)
ATC Clearance (ACL)
ATC Communications Management (ACM)
ATC Microphone Check (AMC)
ANSP ATN Router
The ANSP ATN Router is an essential component in constructing an ATN-compliant ATS centre as it provides connectivity to the ATN network by providing a connection to a CSP.
The Airtel ANSP ATN Router is based on a common software technology base shared with the Airtel ATN Ground/Ground Router and it is customised for the ANSP domain. Click here for more information about the characteristics of the Ground/Ground Router.

PROTOCOL ATN DECODER (PDEC)
PDEC is a protocol decoder which decodes logs into information that can be used for data processing.
The Airtel ATN Protocol Decoder (PDEC) analyses the log traffic and produces reports and summaries that are compatible with initiatives such as LINK2000+ Statistics Reporting and Analysis Tool (LISAT).
PDEC handles large traffic volumes and supports the industry-standard LISAT and GOLD reporting formats. The reporting guidelines support end-to-end system integrity by monitoring, identifying, reporting and tracking problems, and subsequent remedial action.
The following Airtel ATN products are compatible with PDEC;
Air/Ground Data Link Server (AGDLS)
Air/Ground ATN Router (AGR)
Standalone ATN End Routing Domain/Access Router
VDL Monitoring software (VMON)
ATN Functional Model
The following diagram presents the ATN functional model and shows where the Protocol Decoder sits

Real Time Capture and Decoding
The Real Time Capture and Decoder (RTCD) is a standalone product developed by Airtel ATN in order for PDEC to analyse and log traffic. RTCD will work with any ATN Infrastructure.
RTCD is an ATN network packet analyser. It presents captured packet data on the IP ATN operational network in a human readable format that can be post-processed and enables visibility on the ATN network
RTCD captures live ATN traffic from the ANSP IP network infrastructure, PDEC decodes this traffic and produces reports.

GROUND VALIDATION SUITE (GVS)
Real-world validation of an ATC Data Link requires the costly coordination of airborne aircraft interacting with control towers. Test runs are both expensive and, by practical necessity, relatively few.
The Airtel ATN Ground Validation Suite (GVS) enables air navigation service providers to test Data Link deployments independently of the communications service provider or avionics supplier.
BENEFITS
Complete testing of your Data Link system independent of your CSP
Thorough testing as the system emulates up to 1,000 aircraft
ATN and FANS testing on the same system
Reduced costs
Easily set up and intuitive, the GVS enables the user to send and receive messages, performing complete testing of the Data Link system. The GVS comes with realistic test scenarios and emulation support for up to 1,000 aircraft on both ATN and FANS networks.
GVS supports the ED-11B CPDLC message set, ensuring full spectrum testing of all message scenarios.
TEST ATN ENVIRONMENT (GMT-ATN AND AMT-ATN)
Road-testing of communications and air traffic control is difficult, disruptive and expensive. The messages that can be tested are constrained by risks to the live environment. Full end-to-end testing requires considerable coordination with third parties.
The Airtel ATN Test ATN Environment (GMT-ATN and AMT-ATN) enables ATM system and avionics testing for compliance with the ATN standards and for robustness. The system can be laboratory tested with none of the disruption or expense of a live test. Users can familiarise themselves with the Data Link messages exchanged without the expense of setting up actual display units. Adopted by Eurocontrol, the Test ATN Environment provides a deep dive into the capability of an ATM system without the associated risks and expense of live testing.
The scenarios supported by the test ATN environment are:
Baseline 1 (ED110B) services
CM service (DLIC)
CPDLC services (ACM, ACL, AMC)
Baseline 2 (ED-229A) services
CM Service (DLIC)
CPDLC services (ACM, CRD, AMC, DCL, D-TAXI, ITP, OCL)
ADS-C service (Periodic Report)

Combined services (CPDLC and ADS-C) (IER, 4DTRAD)
AIR TRAFFIC CONTROLLER TRAINING
The GVS can be used as a Shadow Test system to create realistic training scenarios for Air Traffic Controllers in their shadow systems.
The AMT-ATN can be used to introduce Air Traffic Controllers to the use of Data Link communications. The AMT-ATN provides a simple graphical interface to allow simulation of Data Link messages from an aircraft. The AMT-ATN enables you to:
Send a CM Logon request and receive a response.

Receive a CPDLC Start request and send a confirmation/rejection.

Construct and send CPDLC messages including concatenated message.

Receive CPDLC messages including concatenated message.

Receive an ADS-C Contract request (Demand, Periodic or Event) and send a positive, non-compliance or negative response.

Construct and send ADS-C reports.