WHY MROS CHOOSE AIRTEL ATN
Airtel's portable test equipment, the Data Link Ramp Tester (DLRT) provides MROs and airlines with a convenient and cost-effective method of testing and validating Data Link on aircraft as part of their avionics test services.
Clients include: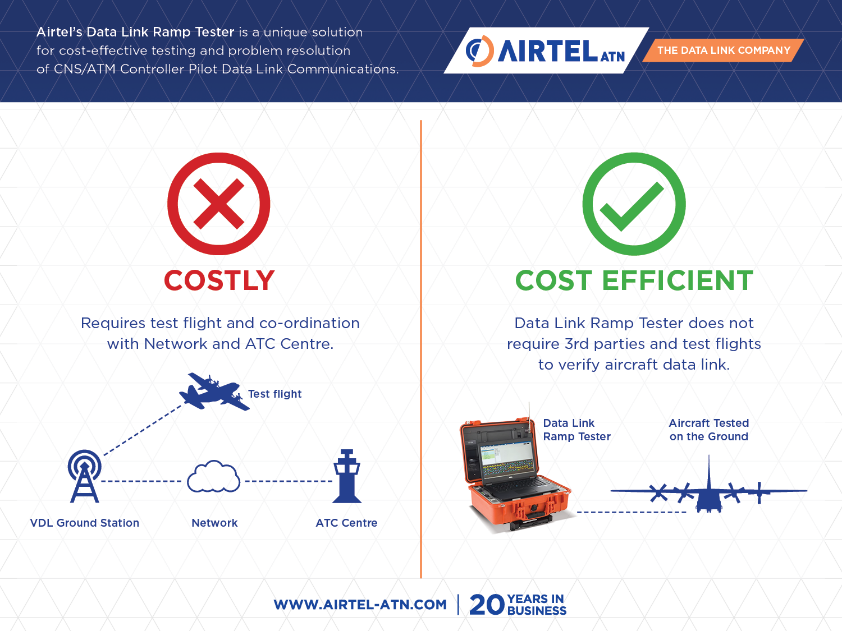 The Airtel Data Link Ramp Tester (DLRT) is a portable and ruggedised unit that brings ATN/FANS CPDLC validation right onto the airport apron. The unit communicates with the aircraft over a low radius signal that does not interfere with regular airport communications. The hardware can be handled as overhead luggage, enabling transport on commercial flights.
Remote location is no longer a challenge: with 8 hours of battery life, the DLRT can be deployed in hangers, remote airfields and on-board aircraft. Reports generated with the results from the tester are considered acceptable means of Compliance reports for EASA aircraft – required under the CPDLC mandate in Europe and accepted by the FAA.

Benefits
No reliance on flight crew availability: Complete autonomy of your aircraft test schedule
Cost efficient: Test your aircraft without the need for third parties and test flights
Independent testing: Test your aircraft without the need to link to an operational ground network or ATC systems.
Robust: Reliable testing in remote locations using our robust hardware and independent power supply
Proves compliance: Reports generated can be considered as 'Acceptable means of Compliance' for EASA aircraft CPDLC mandate in Europe and accepted by FAA in the US
Automated: Efficient and intuitive automated test software options for maintenance users
Airtel provides remote and onsite CPDLC test services to Maintenance and Repair Operators across the world..
Remote Test Service
Airtel's Test Facility in Dublin is connected to both Collins Aerospace (Arinc) and SITA's European ATN Networks to provide ATN testing. Airtel's Test Service uses these to communicate with an aircraft that is also connected to the Collins Aerospace (formerly Arinc) or SITA networks. Typically, this involves test communications to an aircraft grounded at an airport or location with VDLM2 coverage. If the aircraft is grounded in a location with VDLM2 coverage, you can use Airtel's test facility operated from the Dublin office. Just contact us to arrange.
Onsite Test Service
Airtel's test equipment that can simulate the Collins Aerospace (formerly Arinc) or SITA networks as well as the Air Traffic Control centre. An Airtel engineer undertakes the tests on the customer site using the portable Data Link Ramp Tester which supports both FANS and ATN. This enables tests to be carried out during normal aircraft downtime at a site that does not have VDLM2 coverage and without the need for any specialist internal technical knowledge.
Airtel also provides onsite testing of ACARS systems which test the VHF radio (VDR) and Air Traffic Services Unit or Communication Management Unit systems. This includes the delivery of uplinks to flight deck peripherals such as cockpit printer and aircraft monitoring systems. The test system can uplink any type of Airline Operational Communication (AOC) data to the aircraft and receive and display the data sent by the aircraft. Any inability of the aircraft to respond to data exchanges is immediately determined
Providing an onsite service means that tests can be carried out in a shorter timeframe thereby ensuring that normal business operations are not impeded.