The global airline industry depends on the reliability of Data Link networks for the transmission of ATN and ACARS messages over VHF/VDL (VHF Data Link) and SATCOM. Air/Ground Network Infrastructure consists of several interconnected VDL Mode 2 Air/Ground Networks.
These networks are operated by Data Link Communication Service Providers (CSPs) such as Collins Aerospace and SITA or by ANSP Communication Service Providers (ACSPs) such as ENAV
As the global population of airborne travellers surges past one million, these networks have to be robust and capable to handle the growth in traffic. Not only must the network components and routers pass the highest benchmarks of reliability, they must be tested and proven in real-world scenarios.
WHY CSPS CHOOSE AIRTEL ATN
Airtel Air/Ground and Ground/Ground Routers and Test Suites are integral to some of the world's largest communications service providers including SITA, ENAV and Collins Aerospace in Europe, the FAA in the US and ADCC in China
Airtel routers are used by these networks in VDL Mode 2 Air/Ground Networks that support much of the world's fleet
Airtel is active in Europe, USA and Asia
Airtel is an experienced partner of CSPs including Collins Aerospace and SITA
Our Test services are used by Collins Aerospace and SITA
Airtel is active in Aeronautical Telecommunications Networks since 1993
Airtel's ATN Air/Ground and Ground/Ground Routers are ICAO 9880 compliant

AIR/GROUND AND GROUND/GROUND ROUTERS
The ATN Router is an essential component in constructing ATN-compliant communication networks. All networks, and in particular the ATN Network, require the ability to withstand trouble – redundancy is a vital feature. But implementations differ and requirements vary across service providers. VDL ground station specifications are also subject to variation. Complex scenarios require agile solutions.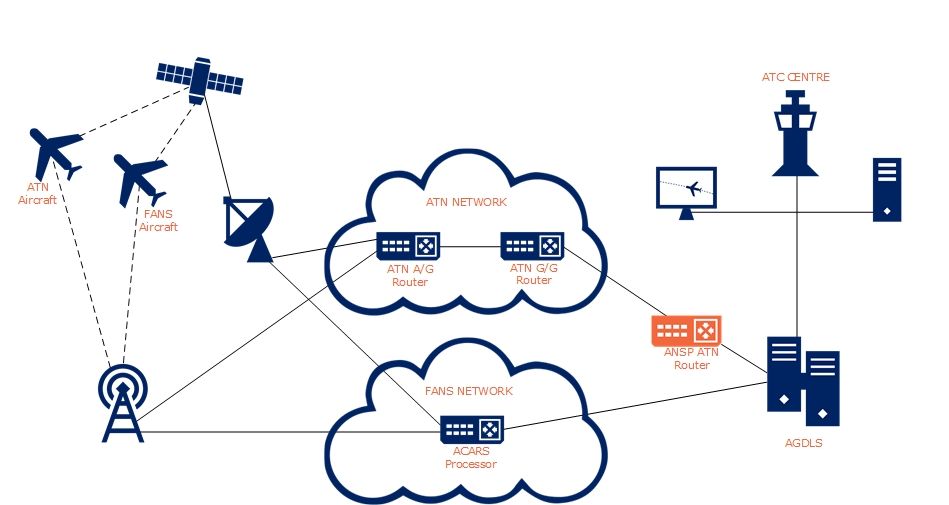 Airtel's Air/Ground and Ground/Ground Routers integrate with a range of redundancy architectures to meet the reliability and maintenance requirements of specific networks. Air/Ground and Ground/Ground Routers connect to VDL ground stations in VDL Mode 2 networks. The routers support multiple VDL Ground Stations network configuration include a redundant router. The following configurations are supported:
Operational/Operational: where two nodes are active on the network at the same time for load balancing.
Operational/Standby: where only one node is active on the network at a time. Sub-configurations of unique ATN NSAP address and two ATN NSAP addresses are supported.
The functionality of Air/Ground Routers includes:
Support for 32 ground IDRP adjacencies
Support for 10,000 routes
Assurance level AL5
Link 2000+ compliance
SNMP interface to remote monitoring
Support of IDRP re-ordering packets
Support of the ATN Routing Ambiguity resolution
Configurable remotely via ATNR-EM (MGUI)
In addition to the Ground/Ground Routers functionalities, the Airtel Air/Ground Routers includes:
Support for 4,000 aircraft routes
Support of the "IDRP recovery" mechanism
Support of multiple VGS interfaces
ATNR-Element Manager (ATNR-EM)
For the end user, management of the system should be as simple as possible. The ATNR-Element Manager (ATNR-EM) provides the capability to monitor and configure the Airtel ATN Routers using a Graphical User Interface (GUI). It also monitors the AGDLS.
The ATNR-Element Manager reduces the end users work load in this very complex environment.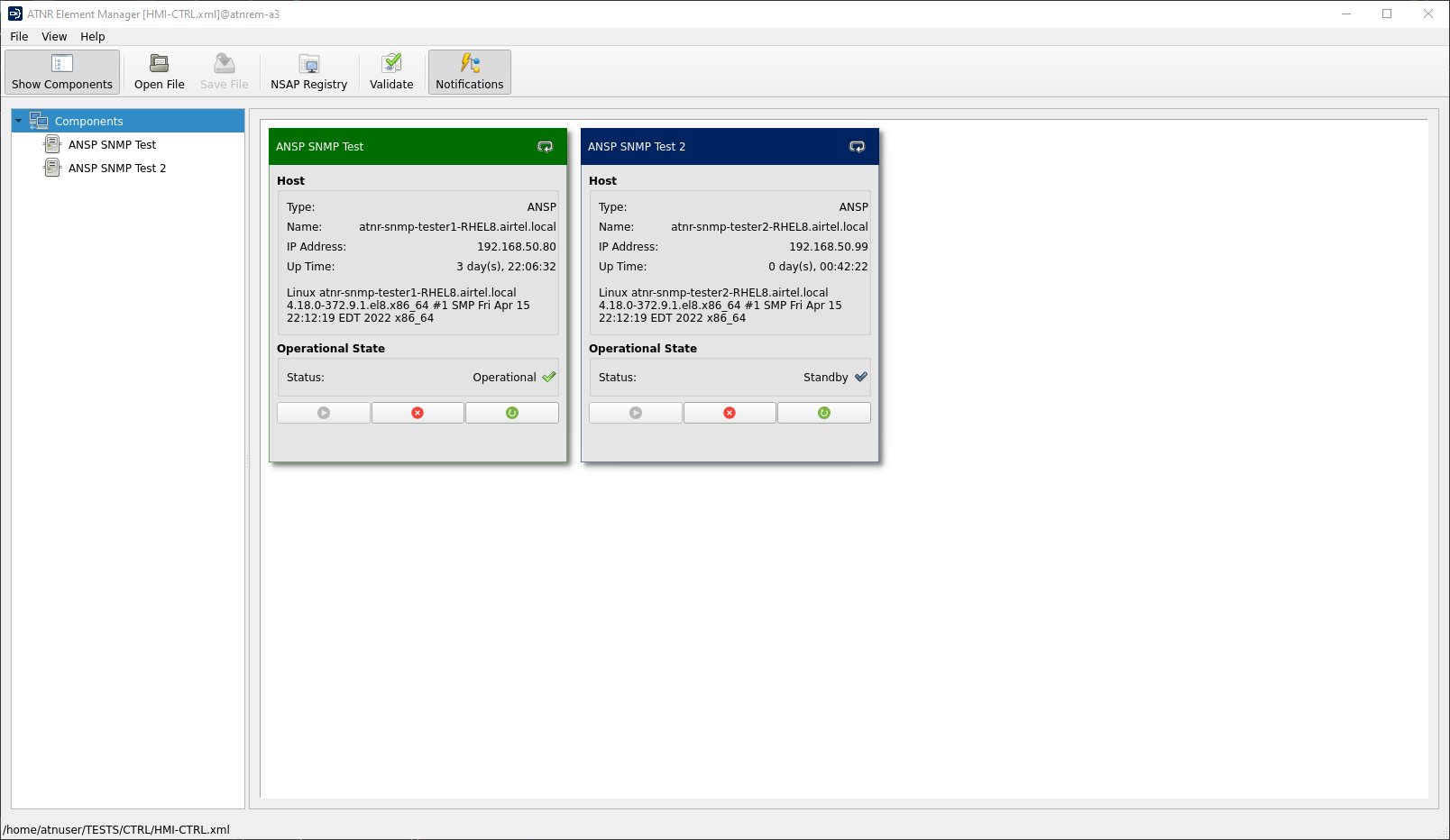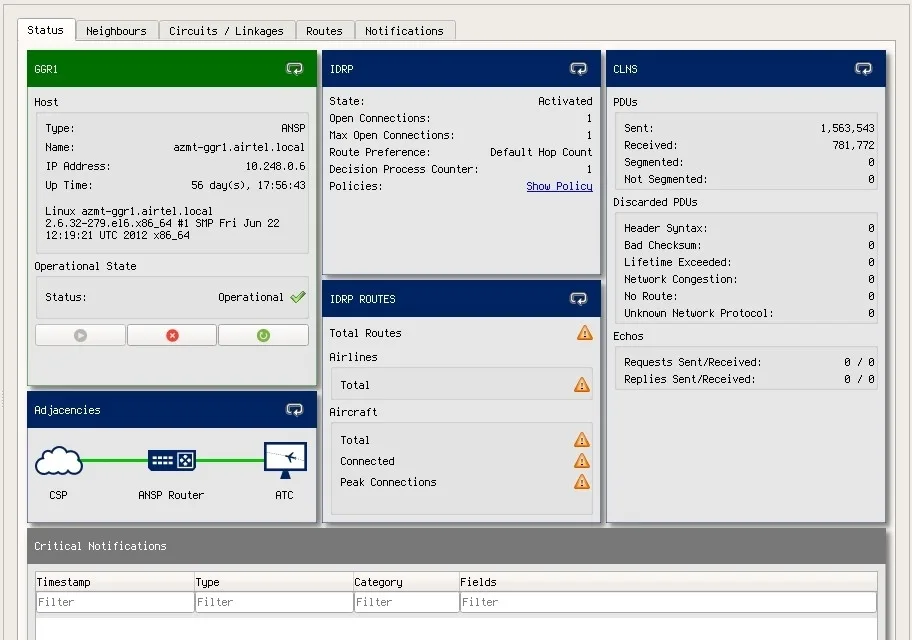 The functionality of ATNR-EM includes:
Monitoring of multiple ATN Elements in the network including the AGDLS
Configuring of multiple ATN Router Elements in the network
Use of symbolic names to refer to ATN Elements (the NSAP Registry mapping between an ATN Address and symbolic name)
Dedicated frame for critical notifications
Displays the status of ATN Elements indicating loss of operational service in a graphical format
Multiple platforms (Windows and Linux)