Dublin, 29th January 2016:
Airtel ATN has received the Harris Corporation Data Communications Integrated Services (DCIS) Partner Excellence Award for its contribution towards the Federal Aviation Administration (FAA) NextGen Data Communications (DataComm) project.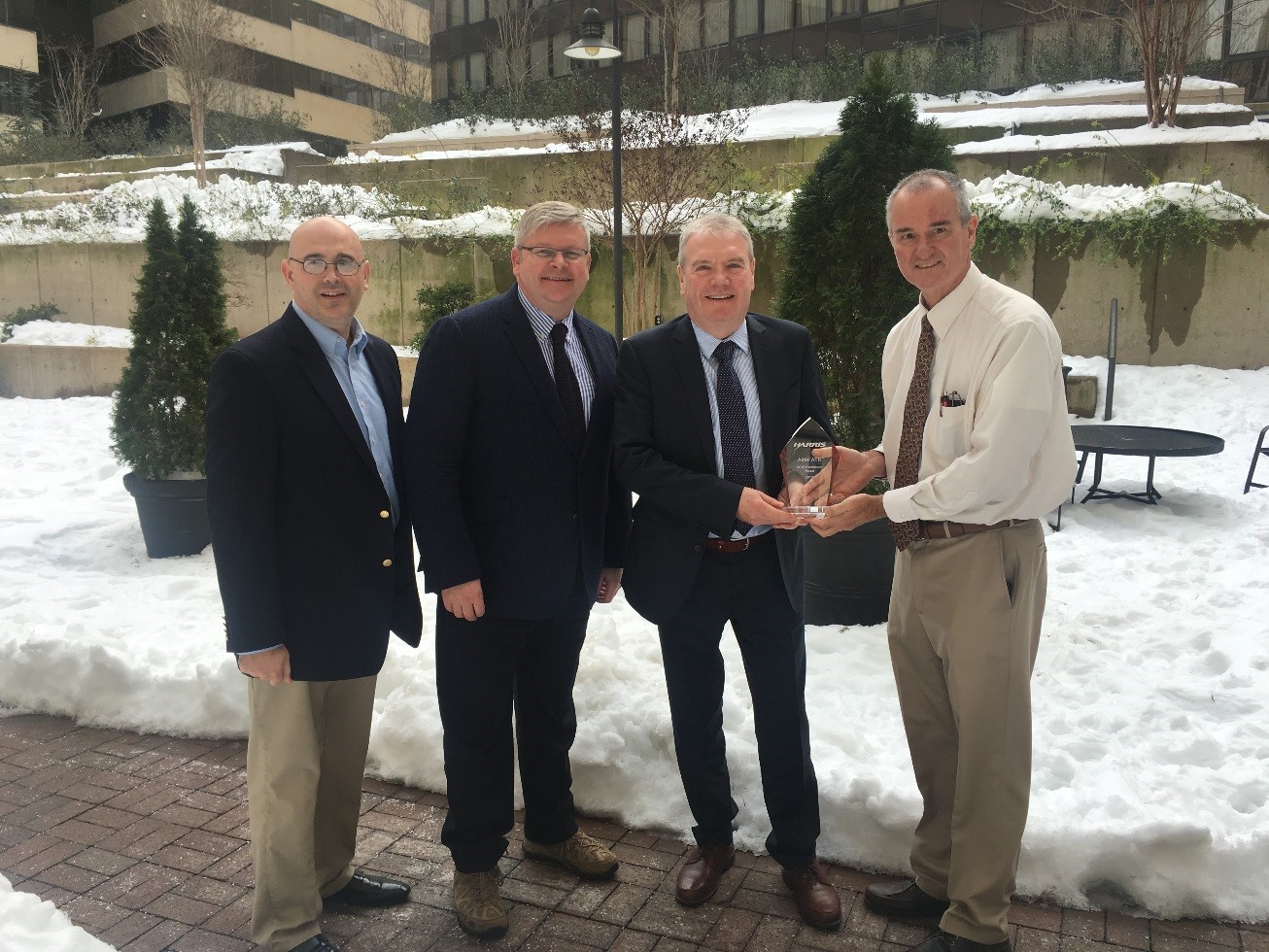 Airtel ATN team braves the snow in Washington to receive the DCIS Partner Excellence Award from Harris
(Jondavid DuVall, Jim Attley, Frank O'Connor, Ron Demuynck)
Airtel ATN won the contract to meet Harris' Mobile Avionics Service Volume Test (SVAT) Suite (MASS) requirements via the delivery of Airtel ATN's MTP-400 Mobile Test Platform. The MTP-400 is a fully portable aeronautical data link test set that supports various customer selected software applications for RF monitoring or as a transceiver for emulating either ground systems or data link equipped aircraft using VDLM2. VDLM2 (VHF Digital Link Mode 2) is the network which supports Controller Pilot Data Link Communications (CPDLC). Airtel ATN's leading edge technical knowledge and customer support focus contributed to the successful delivery of the project.
"Airtel ATN's MTP-400 team has produced a reliable, easy-to-use, product both in the Lab and in the field. […] Airtel ATN's team has consistently exceeded or met the expected delivery dates and has interfaced with us in a professional and friendly manner." John Puglia, System Integration & Test Engineer, Harris
To date the MASS/MTP has been used to successfully complete four Data Comm key site airports. Through the provision of a single portable MTP-400 for both VDL monitoring and MASS testing, Airtel ATN is enabling Harris Field teams to efficiently perform Service Volume Acceptance Tests at the remaining 53 airports across the USA in 2016.
"Airtel ATN's MTP-400 is the world's first truly portable multi-function data link test platform. It's been immensely satisfying to work in partnership with the team at Harris and see them leverage our robust testing solutions as they roll out DCL across the NAS." Frank O'Connor, CEO, Airtel ATN.
About Airtel ATN
Airtel ATN has been a global leader of the data link communications industry for over 20 years.
An independent supplier of data link communication software solutions, Airtel ATN is at the forefront of data link technology development, driving the continual improvement of air traffic communications worldwide.
With our state-of-the-art data link communication solutions and test capabilities, we are a trusted supplier to customers across several sectors in 35 countries as well as an official partner of NextGen in the US and members of SESAR JU in Europe. Airtel ATN go beyond standard turn-key products to provide dependable, customised data link solutions using our core technologies. Over 2,000 aircraft and 6 European ANSP's are data link enabled by Airtel ATN software with further ANSP's to follow in 2016.
To learn more about how we can meet your data link requirements visit www.airtel-atn.host